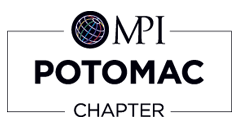 It was my privilege to represent the hotel and lodging industry in a discussion/debate titled "Point-Counterpoint: Contracting Issues We Face Today," at a meeting of the Potomac Chapter of MPI (Meeting Professionals International), which was held at the Hyatt Regency Bethesda on Wednesday November 1.  
Opposite me in this discussion was my friend Jim Goldberg, of Goldberg & Associates PLLC.  I have known Jim for several years, as a fellow member of the Academy of Hospitality Industry Attorneys.  He did a great job representing the event planning industry in our discussion.
I was happy to see a couple of my Georgetown University Global Hospitality Leadership students at the meeting, including Kristie Chang, CMP, of Vicki Johnson & Associates, LLC. 
Thank you to MPI Potomac for inviting me to speak to your members. 
–Bob Lannan